Philharmonia Orchestra / Vladimir Ashkenazy - Remote Galaxy by Flint Juventino Beppe - 2012 Blu-ray [Auro 3D 9.1 24 bits 96 khz ]
Présentation
Philharmonia Orchestra / Vladimir Ashkenazy - Remote Galaxy by Flint Juventino Beppe (2012) Blu-ray Description:
Les morceaux proviennent initialement des Studio Masters DXD (352.8kHz/24bit) et sont présentés dans ce Pure Audio Blu-Ray en différents formats essentiellement multichannels: Auro-3D 9.1 (96 kHz / 24-bit)
DTS-HD MA 7.1 (96 kHz / 8295 kbps / 24-bit)
DTS-HD MA 5.1 (192 kHz / 12110 kbps / 24-bit)
LPCM 2.0 (192 kHz / 9216 kbps / 24-bit)
Description du label 2L:
Can the dualism of life, nature and art be expressed in pure music? This is the question the multi-talented composer Flint Juventino Beppe – formerly known as Fred Jonny Berg – has set out to answer. The album Remote Galaxy is a journey in time and space, a journey given meaning by the album's music and philosophy. The music is uncompromisingly honest, with a genuine power of its own. Using well-known acoustic technology, the composer takes us to some unusual and, for most of us, unknown places.
Remote Galaxy continues the journey of 2L's Grammy nominated album Flute Mystery, and again the Philharmonia Orchestra is conducted by Vladimir Ashkenazy to interpret these adventurous scores. The composer's deep spiritual interest in nature, philosophy and space is as central in the universe of Remote Galaxy as it was in Flute Mystery. Beppe's music leaves a unique fingerprint in the artistic world: there is quite simply nothing like it.
The individual and inventive nature of his orchestral works demands a rich palette of instruments and an extended use of woodwinds, brass and organ. As solo instruments, the intense but delicate sound of the clarinet, the scope of the flute's range of expression and the special characteristics of the rarely used viola da gamba make for an inimitable atmosphere captured in 2L's innovative surround sound technology. With the introduction of height channels, acoustic reflections create a natural sound presence originating from both around and above the listener. The Auro-3D format on this Pure Audio Blu-ray features sound reproduction that is more realistic than anything you've heard before. It delivers a new standard in immersion, fully enveloping the audience in a cocoon of life-like audio.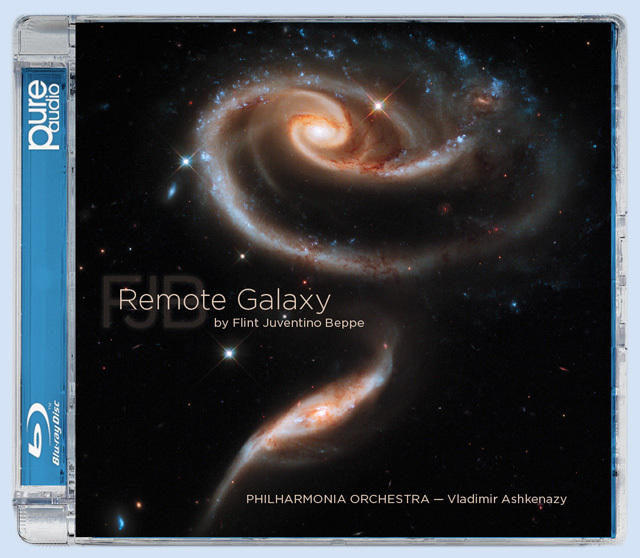 Artiste :
Flint Juventino Beppe
Album :
Remote Galaxy
Format :
1xBlu-Ray
Durée :
01:10:47
Label :
2L
]Nombre de pistes :
9
01. Remote Galaxy Op.81
02. Distant Words Op.43b: I. Typhoon at Heart
03. Distant Words Op.43b: II. Healed by Red Wind
04. Lost in September Op.17
05. Tightrope walking beneath heaven Op.32 No.8
06. Flute Concerto No.2 Op.80: I. Alarm
07. Flute Concerto No.2 Op.80: II. Deepest Woods
08. Flute Concerto No.2 Op.80: III. Escaping Time Power
09. Flute Concerto No.2 Op.80: IV. Mrala
Codec audio :
Auro 3D & DTS-HD Master Audio
Définition :
24 bits
Fréquence d'échantillonnage :
192 kHz
Channels :
2.0 & 5.1 & 7.1 & 9.1
Taille totale :
 19.69 Go